Workspaces
Drafts can filter and configure various options related to the draft list. Configuring those filters is covered in another article. Workspaces allow you to save and apply a set of list configuration and filtering options.
Think of a workspaces as a macros which applies a set of filters and options to the draft list. Workspaces are great to easily view a subset of drafts tagged for a particular project or context.
Table of Contents
---
Creating and Managing Workspaces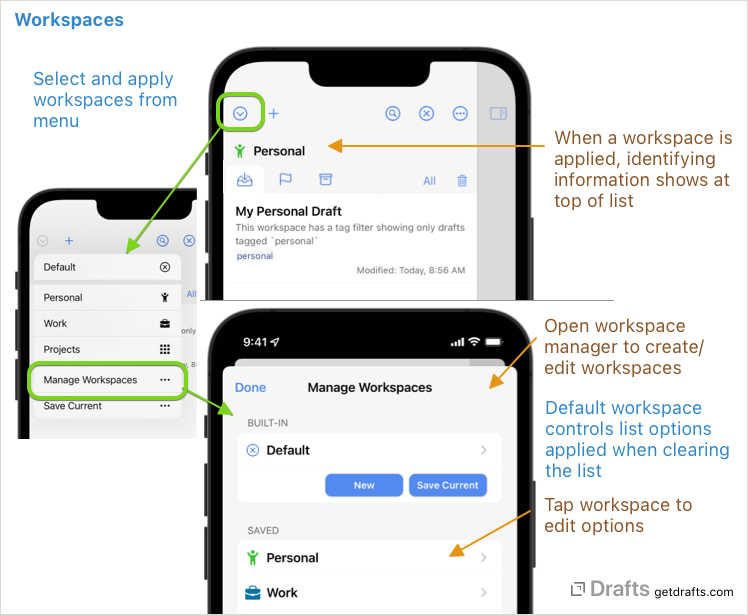 Workspaces are created and managed in the list options (•••) view available near the top of the draft list. When creating a new workspace, it is often best to use the "Current List Options" to configure and test the filters, sort settings, etc., you want for the workspace, then use the "Save Current" option to create a new workspace based on those settings.
Saved Workspaces displays all existing saved workspaces, and tapping on one in the list applies the workspace settings, loading its tag filters, search query, and sort options in the draft list.
Default Workspace
The default workspace is a special workspace (available in the non-pro version) which stores the default draft list options. The default workspace is applied when using any of the "Clear Filters" options. Use the "Save as Default" option when configuring list options to update the default workspace.
Editing Workspaces
To update settings on a workspace, swipe to the left to display actions, and select "Edit".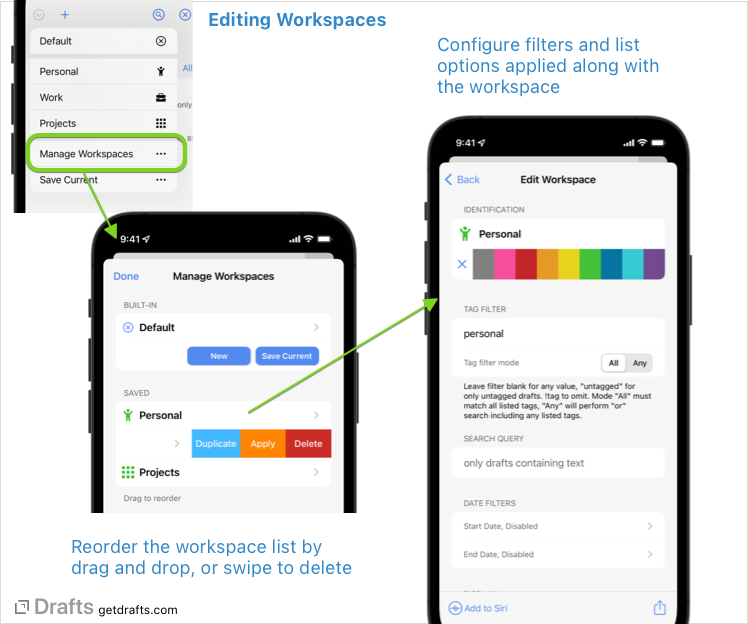 Display and Sort Options
Name, Icon and Color: Select identifying information for the workspace. Tap the icon to select.
Search Query: A text search string which will be loaded in the search field
Tag Filter: Comma-separated list of tags to load in the tag filters. If "All" is selected, all tags must be assigned, if "Any" selected drafts with any of the listed tags will be included in the filter. A tag prefixed with "!" will be omitted.
Preview: Toggle to control whether the draft list will display a preview of the body text, the last action performed and/or tags assigned in the list.
Sort Options: Each tab in the draft list, Inbox, Flagged, Archive, All can have it's own sort order defined which will be loaded along with the workspace.

Include flagged: Inbox and archive can options include or omit flagged drafts.
Sort flagged to top: If enabled, any flagged drafts will be sorted to the top of the list before the sort order is applied.
Select Options
If desired, a workspace can select the active list tab when applied. This is useful in cases where you want to always be sure to select the Inbox, Archive, etc. when browsing the workspace.
If selected, specific action groups can be loaded in the action list and extended keyboard row along with the workspace. If a particular workspace is used for editing TaskPaper format files, it might be helpful to also load a set of actions and keys specific to working with Taskpaper.