Action Groups
Actions are organized in action groups. At any time, a single action group is loaded into the action list, and one loaded as the active keyboard in the action bar.
Table of Contents
---
Accessing Groups
To access groups, swipe to the left in the action list, and use the menu at the top of the action list.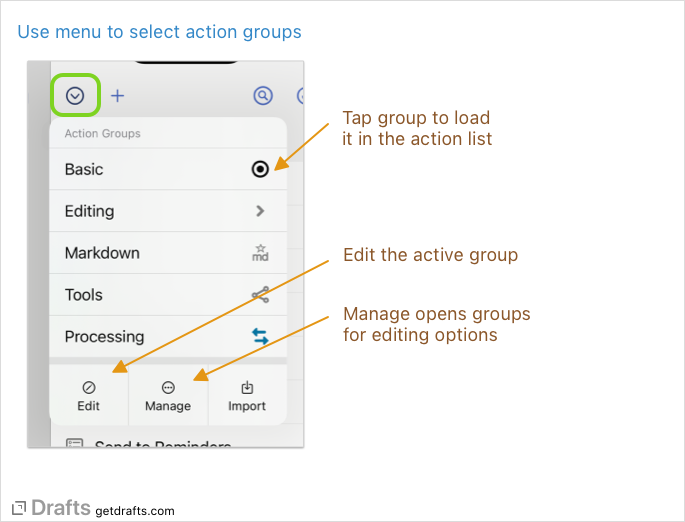 Managing Groups
Some aspects of an action group can be modified directly in the action list when a group is loaded. Actions can be reordered by drag and drop and edited by swiping to the right on an action - but more detailed group editing is done in the group manager.
Select "Manage Group" from the selection menu to access the group manager. In the manage, new groups can be created and edited.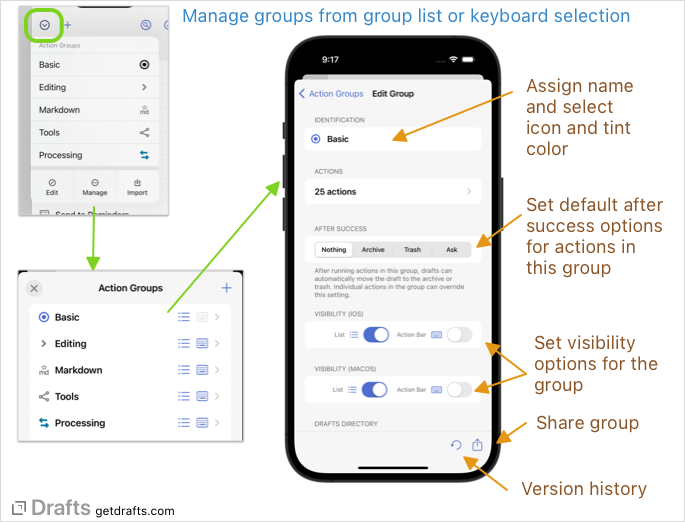 Group Settings
Identification

In the identification section, the group name can be assigned as well as an icon (tap icon to select) and tint color. Use the "X" in the color row, which will use the default tint color for the current theme.

Actions

The list of actions and separator available in the group.

Visibility

Available in list: If enabled, this action group is available to be selected in the action list.
Available as keyboard: If enabled, the group will be available to select as a row in the action bar.

Advanced

After success: Covered in more detail in the advanced action settings article, the after success setting controls the default completion behavior of actions in the group.

Share to Action Directory PRO
Default Action Groups
The first time Drafts is downloaded and installed, a set of default action groups are created and installed which provide examples of common, popular actions for a variety of services, apps, and editing tools.
If you make modifications to these groups, or discover later you might like to restore some default actions you previously deleted, the default groups - as well as the individual actions in them - can be restored by reinstalling the from the Action Directory.
The default groups can be found at these links:
---