Apple Watch
Table of Contents
---
Compatibility
As of Drafts 28 or greater, the Drafts Watch app requires your watch be running watchOS 7.1 or greater. If you are running a watchOS version below 7.1, the watch app will not be visible for installation in the Watch app on your iPhone.
Basics
Drafts watch app allows for quick capture on the go, as well as the ability to browse and manage inbox drafts.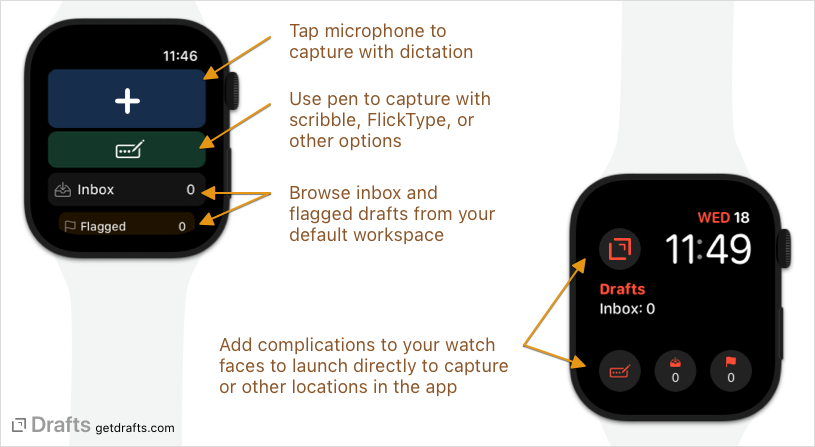 Once installed, you can launch Drafts from the app launch on the Watch. Drafts from your inbox on iPhone will be synchronized to the Watch and the following features can be used from the main screen:
Capture (+ button): Capture a new draft. On watchOS 7 or less, this opens directly to dictation, on watchOS 8 and above it will open to either the on-screen keyboard (Series 7 Watch) or the "scribble" handwriting interface (see About Dictation section below for details).
Capture with Options: (pen icon): Capture with options, which includes access to the Watch scribble handwriting interface, emoji picker, and more.
Inbox: Displays count of inbox drafts. Tapping it opens the inbox draft list. Drafts available are based on your default workspace inbox configuration.
Flagged: Displays count of flagged drafts. Tapping it opens the flagged draft list.
The inbox screen provides a quick list of drafts in your inbox. Tap on a draft to view its detail view. On the detail, the following commands are available:
Flag: Toggle the flagged status of the draft.
Add/Remove Tag: Tags can be added using dictation, scribble, or by selecting from recently used tags - or tags already assigned can be removed from the draft.
Append/Prepend: Use to add text to the beginning or end of a draft, either by dictation - or by scribble using the pen icons.
Archive: Move the draft to the archive.
Trash: Move draft to the trash.
Watch Face Complications
Drafts offers several types of watch face complications, each with its own associated function. All complication types are available for all sizes/types of complication, but may appear differently on different watch faces.
Capture (Drafts logo): Opens directly to creating a new draft. Great for quickly capturing ideas, tasks, and other thoughts on the go. As of watchOS 8 or greater, this will open to the on-screen keyboard (Series 7 Watch) or scribble handwriting interface (Series 6 or below Watch), and dictation can be accessed via microphone button (see About Dictation section below for details).
Capture with Options (pen + …): Opens to creation of a new draft with options, allowing selection of emoji, scribble, or dictation options. Great if you do not always capture via the same input method.
Inbox: Displays your current inbox count, and opens directly to inbox drafts when tapped. The inbox drafts available are based on the filter options on your Default Workspace.
Flagged: Displays flagged draft count, and opens directly to flagged draft list when tapped.
Watch App Settings
In Drafts Settings (gear icon at lower right), The Apple Watch section allows control over options for the watch app. Currently the following settings are available:
Default Tags: This optional setting allows you to provide a tag, or comma-separated list of tags, to automatically assign to any drafts created in the Apple Watch app. If you have a workflow which requires segregating your watch drafts to process separately, this setting may be of value.
FlickType Keyboard Integration
Drafts offers integration with the excellent FlickType Keyboard app for typing directly on a QWERTY-style keyboard on Apple Watch.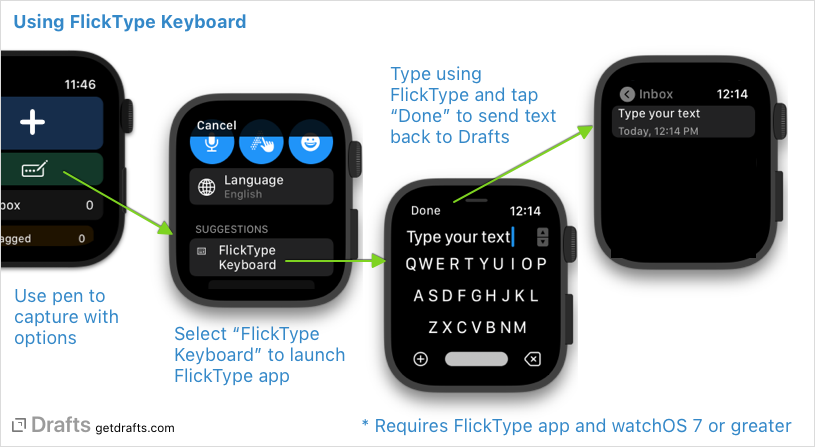 To use FlickType with Drafts:
Make sure you are running watchOS 7.0 or greater.
Install the FlickType watch app on your Apple Watch.
Use any of the capture with options buttons in Drafts watch app (pen icons).
Select "FlickType Keyboard" as the input option.
This integration works by leaving Drafts to open the FlickType app, allowing you to type text. Once complete, tap "Done" in FlickType to return the text to Drafts. Capture will not be complete if you do not complete this step.
Interaction with the Phone and Disconnected Use
When your watch is paired and has an active connection with your iPhone, changes made on the Watch are pushed back to the phone more or less in real-time.
The watch app can be used while disconnected from the iPhone, with some limitations depending on the model and connectivity of your Watch. Dictation requires a connected phone or network to work. Other changes, will be stored on the watch and replayed to the phone when the devices are connected again.
Siri (Deprecated)
NOTE: Past versions of Drafts on Apple Watch have supported direct creation on drafts via Siri using the phrase "Hey Siri, create a note using Drafts…". Unfortunately, Apple removed support for this feature from watchOS in the Fall of 2022, so this is no longer possible.
About Dictation
Up until the release of watchOS 8 in the Fall of 2021, Drafts was able to open, either from a button in the app, or from a complication, directly to dictation to capture notes. Unfortunately, Apple made a change to the way text input works in watchOS–system-wide, not just in Drafts–and this is no longer possible.
All text input now opens to the on-screen keyboard on Series 7 Apple Watches, or the "scribble" handwriting interface on Series 6 or below Apple Watches, and requires an extra tap on the microphone button to reach dictation.
We are not happy about this change, and we have heard from many of you who are not either. We have reported this as an issue to Apple and encourage you to let them know if you would like to be able to get directly to dictation with a single tap.
---